◎ "Mazinger Z" is being revived as a movie for the first time in 45 years!
The super robot animation "Mazinger Z," which swept through Japan in the 1970s, is reborn!
"Mazinger Z" was an enormously successful animation on broadcast television in the 1970s with the highest audience rating of more than 30%. As an original animation about a combining/boarding-type robot, it inspired many boys to dream and hope. The animation, which was broadcast worldwide including Europe and Latin America, is representative of Japanese animation culture and influenced science fiction action robots in each country. It still has avid fans today.
Now the super robot, Mazinger Z, will be revived for the first time in 45 years on the big screen (produced by Toei Animation and distributed by TOEI COMPANY LTD.). The style of the new Mazinger Z and the details of the story are still unknown, but "Mazinger Z the Movie" is sure to attract global attention
Impressive graphic of the red-hot Breast Fire attack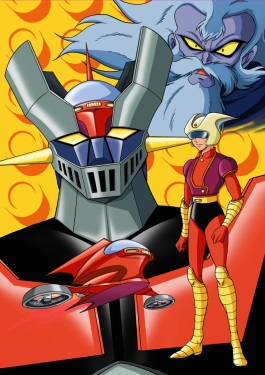 ☆What is "Mazinger Z"?
"Mazinger Z" is the comic book series by cartoonist Go Nagai, published serially in Weekly Shonen Jump (Shueisha, Inc.) in 1972. It is an original comic about huge boarding-type robots and is filled with the allure of Go Nagai's work. It has the powerful Mazinger Z that boasts a variety of weapons and overwhelming strength as well as unique characters, including the main character, Koji Kabuto. When the comic was published serially, it was a big hit and gained a lot of fans not only in Japan, but also in Asia and Europe. It still has a large number of avid fans.
○The original huge boarding-type robot animation!
"Gundam," "Evangelion" and "Transformers" might not exist today if it weren't for "Mazinger Z!"
○The "Mazinger Z" series was also a big hit!
Together with the second series, "Great Mazinger" and the third series, "UFO Robot Grendizer," the "Mazinger Z" series ran for more than four years.
○A pioneer of Cool Japan, which spread worldwide
"Mazinger Z" was not only broadcast in Japan, it was popular particularly in Europe and Latin America. It is a pioneer of Cool Japan. Many creators worldwide, including Guillermo del Toro from the Hollywood movie Pacific Rim, are fans of "Mazinger Z."
Please check more details!→ mazingerz-world.com
Look forward to more news! Hover Pileder on!

© Go Nagai/Dynamic Planning ©TOEI ©TOEI ANIMATION