EXPANDING OPERATIONS BY STRENGTHENING OUR GROUP'S POWER
Toei Animation has been consistently developing planning, production, marketing, and licensing businesses, and overseas operations.
We plan to expand operations further in the through joint efforts with our group companies.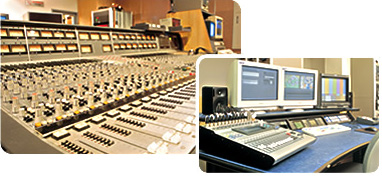 When Toei Animation was established in 1956, TAVAC was launched as the section handling the recording of full-length animation features and CF productions. It was also in charge of the finishing touches on editing and technology. In 1973, TAVAC CO., LTD. was set up to hold the editing and recording sections.
TAVAC has four studios, including one that handles voice-recording and an MA room for putting the finishing touches on the video process. TAVAC is also fully equipped with a non-linear editing room, a preview room, and a positive/negative editing room as well.
TAVAC has also been expanding and developing its various production businesses by making all of the studios adaptable to digitalization, and working on the production of DVDs.

5F Nakano Central Park East, 4-10-1, Nakano, Nakano-ku, Tokyo 164-0001
TEL +81-3-5318-0695 FAX +81-3-5318-0696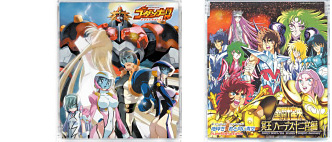 Since its establishment in 2001, TOEI ANIMATION MUSIC PUBLISHING has been producing music, maintaining and managing rights for all of Toei Animation's works in general.
While simultaneously maintaining links with the music publishers connected with TV stations, manufacturing corporations, and productions, TOEI ANIMATION MUSIC PUBLISHING has been proceeding to make its own unique system for producing features that only an animation company is capable of.
In recent years, demands for new styles of business are increasing in the music industry, as seen in the sudden growth of the ring one melody business.
By continuing to plan music albums based on animation music, placing effort into the excavation and training of talented vocalists, and by participating and cooperating with various industries besides the animation industry, TOEI ANIMATION MUSIC PUBLISHING will continue to pursue its search for the expansion of a new film music business.

In 1986, this company got its start as a finishing work contractor studio of ITCA, which was a subsidiary of EEI (a construction company). In 1992, it became EEI-TOEI Animation Corp., a joint venture between EEI and Toei Animation; and in 1999, it became a 100% subsidiary of Toei Animation.
Toei Animation Phils has about 160 employees and carries out approximately 70% of the entire Toei Animation's workload in animation pictures, background, and the finishing processes.

In 1997, Toei Animation established TOEI ANIMATION ENTERPRISES (TAE) as a joint venture and locally incorporated company in Hong Kong. TAE thereby began full-fledged business activities as a marketing base for the Asian region. From its very founding, TAE Hong Kong has contributed considerably to expanding Toei Animation's operations abroad by establishing very close relations with television stations in the region and local merchandise licensees. That, in turn, has enabled us to sell even more works abroad. Moreover, TAE takes advantage of the regional benefits of Southeast Asia as a manufacturing base for the products of the world. It also carries out service operations such as proposing promotion plans and introducing product manufactures to clients around the world who hope to merchandise Toei Animation's characters. In this way, TAE conducts merchandise licensing operations that are a step ahead of others.

TOEI ANIMATION has been distributing its popular Japanese Animation films and derivative character licensing through local partners all over American regions for over 13 years. TOEI ANIMATION INCORPORATED (TAI). a wholly-owned subsidiary of Toei Animation Co., Ltd. established in Los Angeles in March 2004, looks forward to spreading the world-renowned Japanese animation studio's extensive library and pursuing co-production projects in North and Latin America and other English-speaking territories worldwide. The main business operations of TAI include film licensing in all media and emerging platforms, merchandise licensing and co-productions with local establishments.

Considering access to the 5 major markets in Europe; France, Spain, Italy, Germany, and the UK; Toei Animation Europe S.A.S (TAEU) was established in Paris, France in December 2004.
The establishment of this local office enables direct and strategic planning with local major television stations and merchandising licensees.
TAEU also globally expands its boundaries for licensing in areas such as Eastern Europe, Russia, the Middle East, and Africa.

Toei Animation set up a local subsidiary in Shanghai called TOEI ANIMATION (SHANGHAI) CO., LTD. in June 2017 to expand its businesses in China. In addition to the core licensing business, this subsidiary has responsibility for diverse operations, including event planning and execution, brand management, wholesale, imports and sales, Internet sales, other incidental businesses and consulting. TOEI ANIMATION (SHANGHAI) will solidify its operating foundations through steps, including business alliances with local business partners, and market Toei Animation's products in all parts of China.