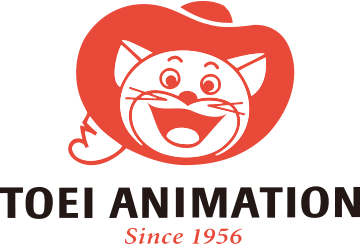 The logo of our company is Pero, the hero of Puss in Boots, an animated feature for movie theaters.

This movie was released as the first work of the "Toei Animation Festival" on March 18, 1969, becoming a blockbuster in terms of both audience numbers and box-office revenue.

Based on the famous children's story of Charles Perrault, this work is an adventure fantasy. Pero, chased by a trio of killer cats, gave advice to a youngster named Pierre who had been kicked out his house, trying to make him the husband of Princess Rosa. However, a devil named Lucifer forced the princess to marry him and took her to his castle. Pero and Pierre went to the devil's castle and squared off with Lucifer.
This work is filled with high-quality humor, jokes, ideas, and the passion of the staff. Showcasing the possibilities of animation in those days, this work is one of the masterpieces of the Toei Doga (predecessor of Toei Animation) era, as well as being our commemorative work.
Even now, 40 years after its release, Pero is widely recognized and loved by fans and employees as the logo of our company.