Toei Animation Co., Ltd., is producing the new TV Series of "Go! Princess Pretty Cure", as the newest "Pretty cure" series, which will start on ABC/TV Asahi Network at 8:30 a.m. on February 1, 2015.
Go! Princess Pretty Cure is the twelfth installment of the Pretty Cure transforming heroine action anime franchise, which started in February 2004 with the original Pretty Cure.
The keyword for this new Pretty Cure is "princess". A beautiful princess, dressed in a gorgeous, sparkling dress, is a vision eternally admired by girls. This time, the Pretty Cures turn into and fight as those princesses of girlhood dreams. Each of them exhibits their powers as a princess associated with flowers, the sea, or the stars, respectively.
The slogan "Strongly, kindly, beautifully!" conveys to supportive young viewers of Pretty Cure the message that working hard for one's dreams can give rise to a great power within themselves, too. We hope you look forward to Go! Princess Pretty Cure, as the Cures wear their gorgeous dresses and fight their magnificent fight!

【STORY】
Nice to meet you! I'm Haruka Haruno, a seventh grader at Noble Academy!!
I have a dream I cherish. I won't lie, it's to become a princess!! A princess, like the ones in my beloved picture books... That's the kind of lovely person I totally want to be! I once made a promise with a boy named Kanata that I wouldn't give up on my dreams.
Just when I was thinking it's time to give my new life my best effort, these bad guys show up in front of me...!! They shut peoples' dreams away in a "gate", and fill them with despair! Now it turns out I've become a Princess Pretty Cure!?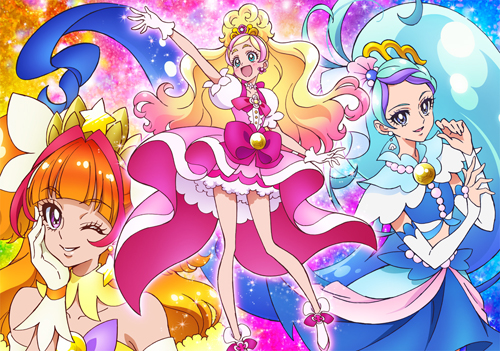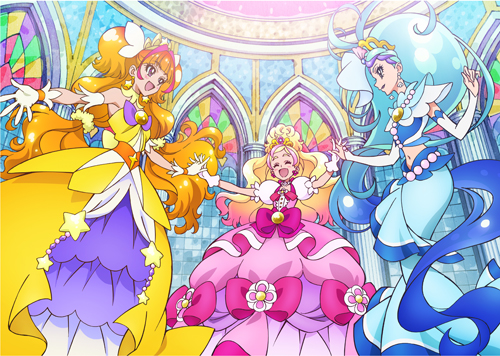 【Staff】
Author:Izumi Todo
Producer:Shigehaki Dohi (ABC)
Tomoko Takahashi (ADK)
Hiroaki Shibata
Yu Kaminoki
Series structure:Jin Tanaka
Character design:Yukiko Nakatani
Art design:Ryutaro Masuda
Series director:Yuta Tanaka
【Cast】
Cure Flora/Haruka Haruno:Yu Shimamura
Cure Mermaid/Minami Kaido:Masumi Asano
Cure Twinkle/Kirara Amanogawa:Hibiku Yamamura
Pafu:Nao Higashiyama
Aroma:Shiho Kokido

Please Check more details! :http://www.toei-anim.co.jp/tv/princess_precure/