Toei Animation Co., Ltd. announces that Dragon Ball Z: Resurrection F (distributed by Toei), an animated film produced by the Company that was released last April, won the Japan Academy Prize for Best Animated Film at the 39th Japan Academy Awards.
Dragon Ball Z: Resurrection F, the 19th installment in the series, marked the first time that the original writer of Dragon Ball, Mr. Akira Toriyama, was actually involved in production. Mr. Toriyama wrote the screenplay for the film.
The movie was released on April 18, 2015 in Japan and made 3.7 billion yen at the domestic box office. It was then released in 44 other countries, becoming a smash hit. The box office sales worldwide including that of Japan has reached 7.7 billion yen as of writing. In the United States, the movie was shown at approximately 1,000 theaters, which was an incredible achievement, and ranked ninth among Japanese animated films to be released there to date.
A lot of CG-animation was used to create the powerful battle scenes, the main highlights of the movie.
Going forward, Toei Animation will actively work to adopt new technologies and forms of visual expression, while continuing to produce works that are enjoyed by people around the world.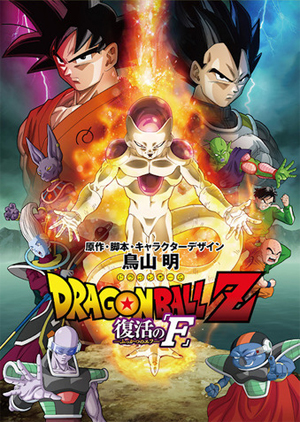 <About Dragon Ball>
Dragon Ball was serialized in Shonen Jump, a weekly comic magazine, for ten and a half years from 1984. It was also published in a book form and in completes, selling more than 230 million copies worldwide. It remains extremely popular today 20 years after the original serial publication ended. Dragon Ball is still aired on TV and featured in games and character cards. In 2013, the film Dragon Ball: Battles of Gods was released. It was the first time in 17 years a Dragon Ball film had been released, and it made 3 billion yen at the box office. Two years later in 2015, Dragon Ball: Resurrection of F was released. It was the 19th installment in the series, and was the first animated film in which Mr. Akira Toriyama wrote the script and was involved in production. The movie was released in 45 countries worldwide and became a smash hit, making 7.7 billion yen at the box office. The Blu-ray and DVD versions are available from Toei Video.
Dragon Ball: Super, the first TV series based on original stories by Mr. Akira Toriyama, is currently being aired. In February 2016, the series will celebrate the 30th anniversary of its initial broadcast on TV.
©Bird Studio, Shueisha ©2015 Dragon Ball Z Production Committee